Women in Theatrical Design: UMass Amherst Theater with Scenic Designer Mimi Lien, March 30
March 30, 2021
Sourced from Stage Directions Magazine
UMass Amherst Theater has been holding a speaker series with Women in Theatrical Design, throughout March, who share their thoughts on their work and how they experience their field as women. In a series of Zoom conversations that are free and open to a national audience, UMass Theater presents four brilliant practitioners of theatrical design who share their thoughts on their work and how they experience their field as women. The last designer in this series will be Scenic Designer Mimi Lien being interviewed by UMass Amherst Professor, Anya Klepikov on Tuesday, March 30 at 1-2 p.m. EDT.
Registration for these events is encouraged but not required.
Costume Designer Anita Yavich (March 2), Sound Designer Jane Shaw (March 8), Lighting Designer Jane Cox (March 16), and Scenic Designer Mimi Lien (March 30) talk about their art and practice, how they have found ways to assert their voice in a male-dominated sphere, and how they view the economics of making a career in their field. The conversations will be moderated by the designers' counterpart faculty members in theater, Yao Chen, Amy Altadonna, Penny Remsen, and Anya Klepikov.
In private meetings, each designer will also conduct portfolio reviews and offer career advice to the department's MFA design students.
With the exception of costume design, theater design and technical fields are dominated by men — one recent study shows that in Off-Broadway theaters, more than two-thirds of set, lighting, projection, and sound design hires from 2010-2015 were men. This series is funded by Women for UMass Amherst (WFUM), a network of alumni that promotes the advancement of campus programs that provide access, support, and opportunity for UMass Amherst students, with preference to those projects that positively impact UMass Amherst women and their respective communities.
"Our guests will help give our students additional tools and impetus for challenging the sexism and bias out there," said Theater Chair Harley Erdman. "The message is important for students of all genders who will be working in these male-heavy fields. We are thankful to WFUM for jumpstarting this idea and generously supporting it."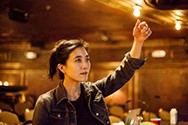 Mimi Lien, Scenic Design
Mimi Lien is a designer of sets/environments for theater, dance, and opera. In 2015, she was named a MacArthur Fellow, the first set designer ever to achieve this distinction. Selected work includes Natasha, Pierre, & The Great Comet of 1812 (Broadway, TONY Award, Lortel Award, 2013 Hewes Design Award), John (Signature Theatre, 2016 Hewes Design Award), Appropriate (Mark Taper Forum, LA Drama Critics Circle Award), Preludes, The Oldest Boy (Lincoln Center), An Octoroon (Soho Rep/TFANA, Drama Desk and Lortel nominations), Black Mountain Songs (BAM Next Wave). Her stage designs have been exhibited in the Prague Quadrennial in 2011 and 2015, and her sculptures were featured in the exhibition, LANDSCAPES OF QUARANTINE, at the Storefront for Art and Architecture. Mimi Lien received a B.A. in Architecture from Yale University (1997) and an M.F.A. in Stage Design from New York University (2003). She is a company member of Pig Iron Theatre Company and co-founder of the performance space JACK.