2023 Glerum Masterclass Heads to Seattle
August 14, 2023
Our Jay O. Glerum Rigging Masterclass is heading to our 2024 Conference city — Seattle! Join us Oct. 9-10, 2023 at the Cornish College of the Arts for two days of demonstration and hands-on based learning and training with two of our ETCP recognized trainers; Ed Leahy and Shane Kelly. Click here to learn more about our trainers.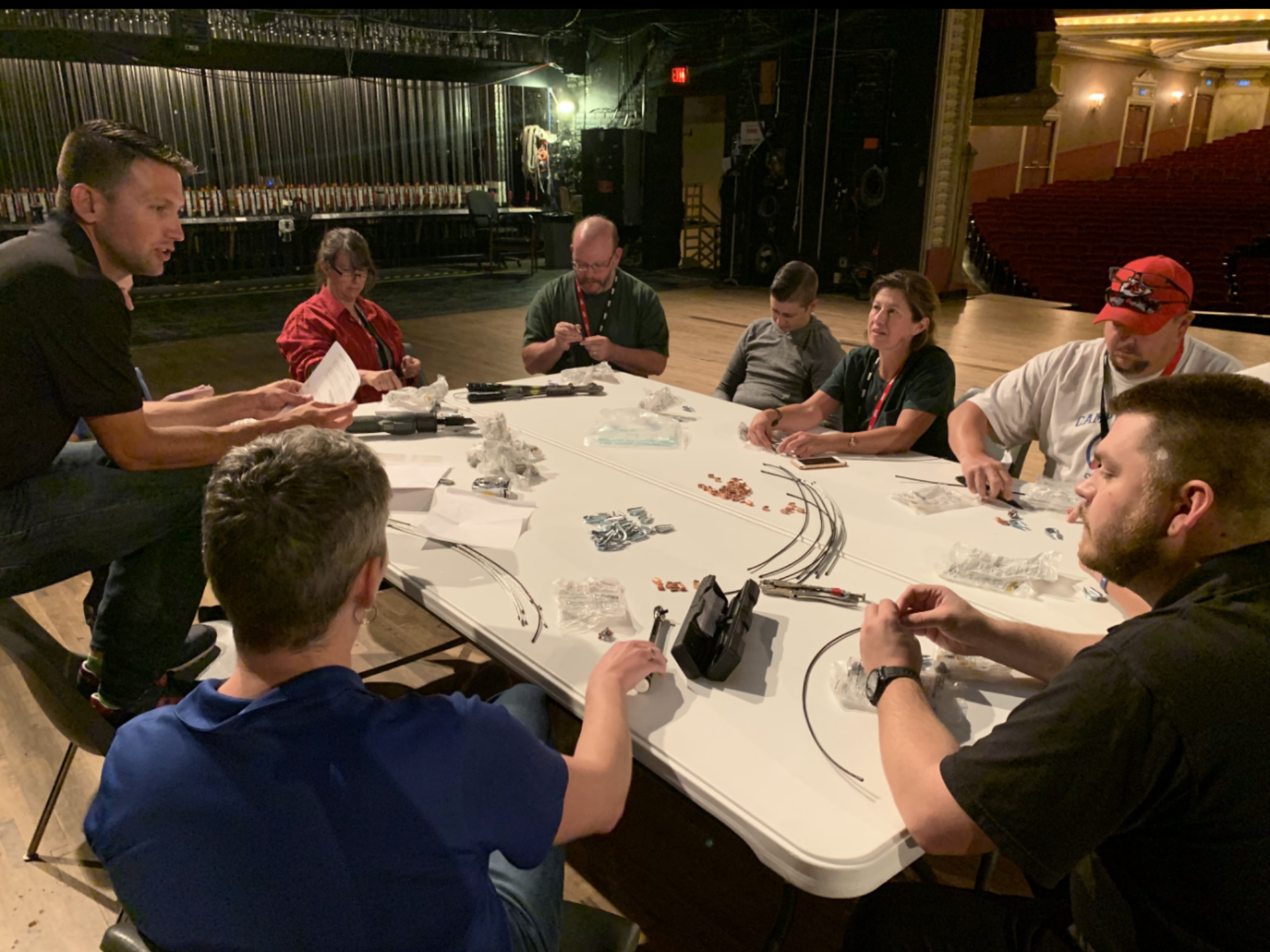 This intermediate course qualifies for 12 ETCP Renewal credits and is offered for a competitive price with USITT members saving even more! The two-day curriculum covers design factors, physics of loads and forces, truss basics, bridle rigging, and more.
Due to this being intermediate-level education, this class is best suited for those familiar with rigging basics and the safe operation of a counter weight system or those who have taken our Entry Level Glerum Masterclass and seek to advance their skills.
"Building a culture of safety is integral to the health and wellness of professionals across our industry, yet prioritizing it has often come secondary to getting productions done on time," said past Glerum instructor Mary Black. "Glerum Rigging Masterclasses offer opportunities for professionals, educators, and students alike to receive proper training on how to safely utilize the equipment in their own facilities."
The Jay O. Glerum Rigging Masterclasses were established in 2016 to honor Glerum's passion for rigging safety and training. Glerum's commitment to safety has made these masterclasses possible and his legacy lives on through both the trainers, attendees, and their combined passion for continuing education and industry safety. 
"Jay Glerum's influence on safety and education in stage rigging is incalculable," said past Glerum instructor Bill Sapsis. "Through his books and training classes he has helped literally thousands of technicians learn their craft and stay safe on the job. It's an honor and a privilege for me to continue Jay's legacy through the USITT Jay O. Glerum Masterclasses."
Glerum was an American theatre consultant and author, and USITT Fellow, best known for his book, Stage Rigging Handbook. He was widely recognized in the technical theatre circles as the author of the Stage Rigging Handbook. Published by Southern Illinois University Press and continually in print since 1987, the book has been revised each decade to stay current with the rapidly changing field of technical theatre.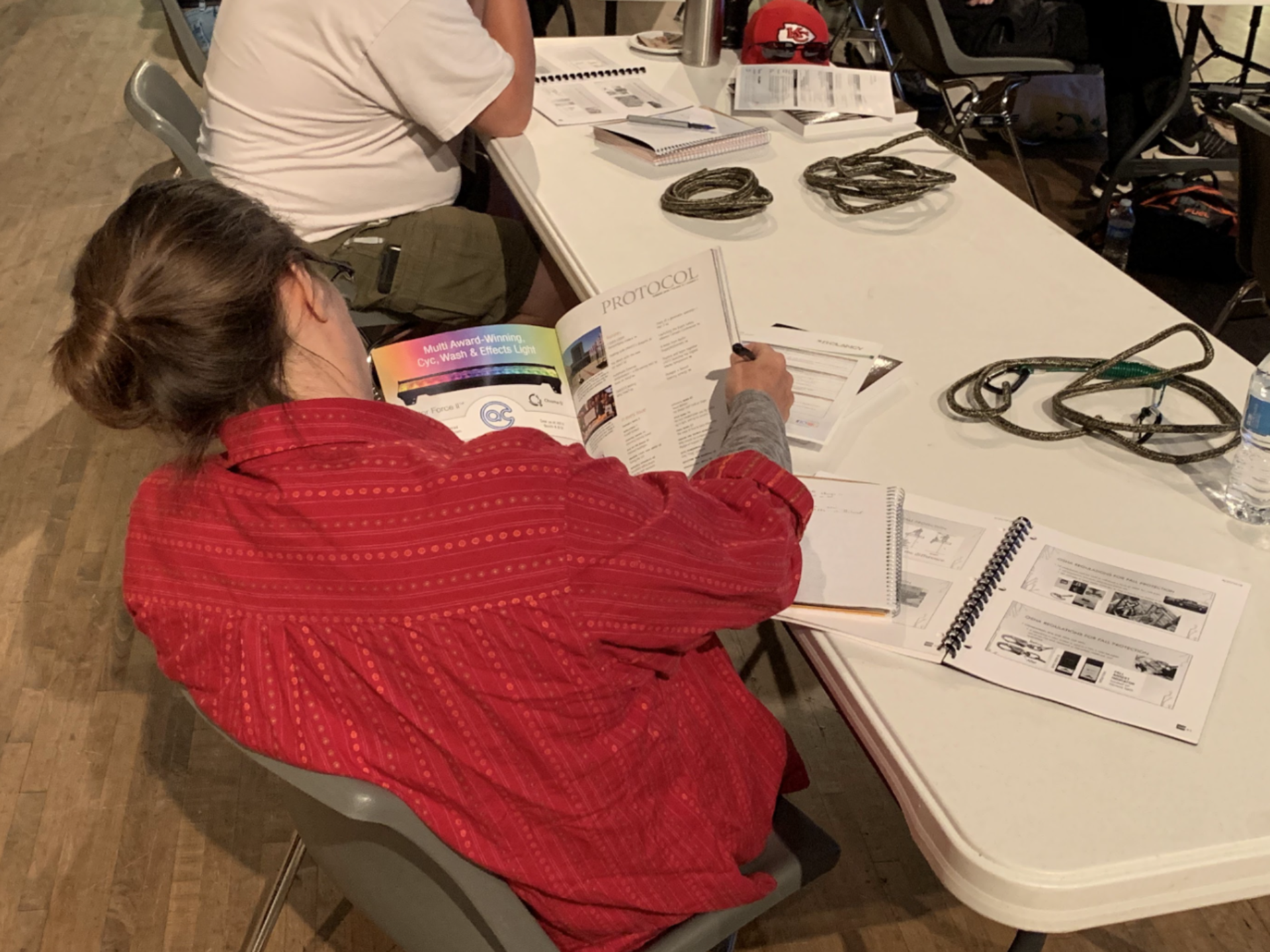 Glerum was active in USITT for more than 40 years, joining in 1973 and serving on the Board and was a Technical Production Commissioner in the 1980s. He received the Joel E. Rubin Founder's Award in 2001 and the Health and Safety Award in 1992 and in 1995 was elected a Fellow of USITT.
"Regardless of your level of training, there will be takeaways from a Glerum Rigging Masterclass," Black said. "No theatre and no professional are perfect, and these classes will offer the opportunity to improve not only your own knowledge base, but also to build a safer culture for your theatre and your colleagues."
Our Fall 2023 Jay O. Glerum Rigging Masterclass is made possible thanks to our sponsors: The Chicago Flyhouse, ETCP, and Thern Stage Equipment.

The Details
Monday, Oct. 9, 9:00 a.m. – 5:00 p.m.
Tuesday, Oct. 10, 8:30 a.m. – 4:30 p.m.
Cornish College of the Arts, Seattle, WA
Each participant is provided with a digital handout for the class, refreshments, and hands-on and demonstration based training. Attendees are responsible for travel and accommodations.
The Curriculum
Review of Breaking Strength, Design Factor, Working Load Limit
Physics of Loads and Forces
Beam Loading and Cantilevers
Truss Basics – inspection and general principles
Mechanical Advantage
Bridle Rigging
Overview of basic automation controls
Out of balance loading situations for counter weight systems
Where the rules come from - Codes, Standards, and Risk Assessment
The Deadlines
Now - Sept. 18 (midnight 11:59 p.m. ET)
Members $525 | Non-members $575
After Sept. 18 (midnight 11:59 p.m. ET)
Members $550 | Non-members $600
SPECIAL ADDITION: This year, an invitation to USITT's Launch Party to immediately follow the end of class on day two! We encourage participants to join us in welcoming local industry partners to a cocktail reception where we'll discuss and celebrate our upcoming Conference & Stage Expo in Seattle, March 20 - 23, 2024.