USITT's 61st Annual Conference & Stage Expo: March 8-12, 2021
The 2021 USITT Virtually Anywhere Conference will be brought to you via the eShow platform March 8-12, 2021. The conference can be accessed from virtually anywhere, while the times are listed in Eastern Standard Time (EST). 
This brand-new experience will not just be another online meeting! We are working to take the very best ideas from virtual gatherings and finding new ways to bring the networking, job seeking, and learning that people want and transform those things into a dynamic, nimble, and fun format that brings the value that folks have come to expect from USITT.
The conference week begins focused on educational sessions that have been curated by our USITT Commissions, operating from 11 a.m. - 9 p.m. EST Monday, March 8 and Tuesday, March 9. These educational sessions will continue throughout the week as our focus expands to our amazing exhibitors and industry partners starting on Wednesday, March 10. 
We will cut the ribbon to our Virtual Expo Floor directly following our always anticipated New Product Showcase at 3:30 p.m. EST on the 10th. The expo floor will then remain open until 7 p.m. EST and reopen from 11 a.m. - 9 p.m. EST on Thursday and again from 1 p.m. - 6 p.m. EST on Friday. Educational sessions from our exhibitors will be included in programming Wednesday through Friday. 
Each night of the conference will culminate into an energizing and engaging activity for all conference attendees and exhibitors to join in on. 
In a different time zone or miss a session? Don't worry – most all of these sessions will be available for 6 months post-show for registrants to view on-demand. 
Conference Hours
Monday-Thursday: 11 a.m. - 9 p.m. EST (UTC -05:00)
Friday: 9 a.m. - 7 p.m. EST
Expo Hours
Wednesday: 4 p.m. - 7 p.m. EST
Thursday: 11 a.m. - 9 p.m. EST
Friday: 1 p.m. - 6 p.m. EST
Meetings
Commission meetings, generally held during the Conference week, will be held online March 1-2. These meetings are open to all, but require registration. More information here.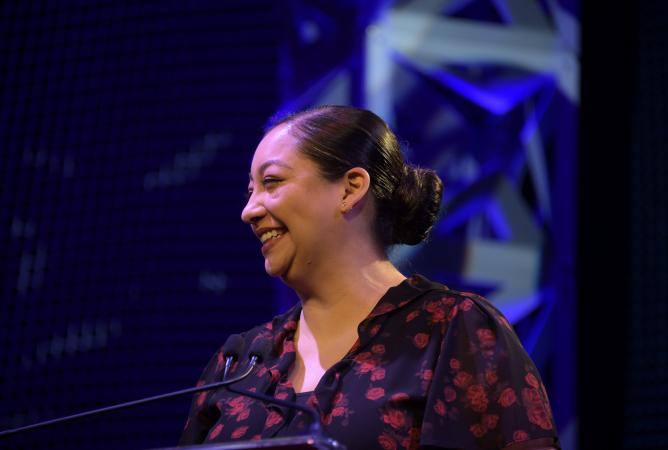 2021 Young Designers, Managers, and Technicians Award Winners
USITT21 Virtually Anywhere Keynote Speakers
Meet our USITT21 Virtually Anywhere keynote speakers! Actor, singer, and motivational speaker, Marc Winski; lighting designer, Adam Honoré; and production manager, Audrey Hoo will join us to inspire, energize, and inform the industry! Get to know our keynote speakers, here.
---
Get the latest information on USITT21 Virtually Anywhere
Sign up today!